ABOUT US
Info
OUR PROMISE AND OUR VALUES
---
Designers and producers of spectacular moments since 1998, CRYSTAL is the ultimate partner for each and every project. Experts in the staging of water, ice and fire, CRYSTAL's artist-engineers imagine innovative scenography, mechanics, and special effects. With an impassioned and multifaceted approach, CRYSTAL creates memorable experiences that live up to any ambition.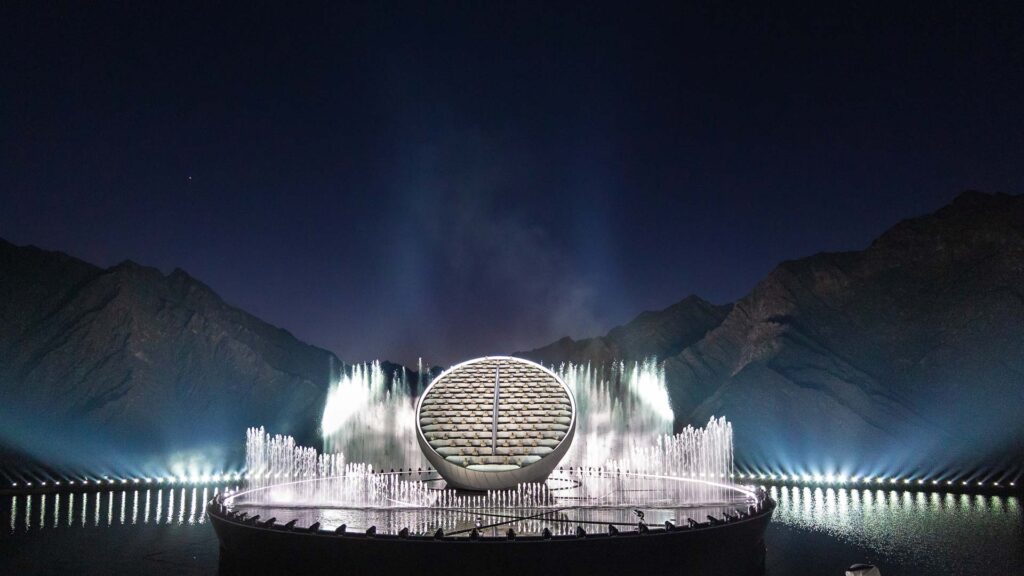 1998
1998
Following a successful career as an ice sculptor, Michel Amann brought together a team of artists and craftspeople working with water, ice, fire, scenery, and special effects. In CRYSTAL's workshops, these visionary engineers are constantly searching for innovative materials and processes in order to meet client challenges.
Essential material and foundation of the crystal expertise

Development of knowledge in the field of ice rinks and luge tracks

Liquid matter is incorporated as a creative resource

Creation of unique atmospheres and stage settings

Introduction of fire power to create magical moments

Production of complex and special machines

International growth is reflected in the move to a new facility
OUR PROMISE AND OUR VALUES
---
Achieving the unachievable

As an international leader in the creation of exceptional moments, CRYSTAL boasts both creative and technical expertise in all its sectors. The emphasis placed on research within the CRYSTAL LAB is at the origin of the major innovations patented by CRYSTAL in the fields of multimedia and equipment. It is this passion for discovery that underpins CRYSTAL's creative approach, making what seems impossible become reality. 

A partnership of trust

CRYSTAL's founders and teams ensure optimal customer support throughout the entire creative process: from the first spark of imagination to the dismantling and recycling of the materials used. By favouring dialogue and flexibility, CRYSTAL delivers a creative proposal and technical expertise as close as possible to its clients' expectations: A partnership of trust for a tailor-made project.

CRYSTAL rises to any challenge

Adapting to time, material, or budgetary constraints while maintaining optimal creativity is a key element in the success of all CRYSTAL projects. Whether it is a question of transforming existing spaces, orchestrating events that are as dazzling as they are ephemeral, or creating a permanent and equally fascinating universe from scratch, CRYSTAL intervenes with great genius on the most complex of specifications. Whatever the project, be it artistic or technical, CRYSTAL can rise to any challenge.
Emotion at the heart
of your projects
Emotion at the heart of your projects
CRYSTAL has been pursuing a unique ambition for over 25 years: conceptualising and creating evermore dazzling projects. This ambition is nourished by the passion of our expert workforce. Driven by artistic passion and technical achievements, they harness natural elements such as water, ice and fire to create atmospheric spaces and place emotion at the heart of your projects. With CRYSTAL, your dreams will become much more than reality.
Michel Amann est un passionné. Pour lui, aucun projet n'est trop compliqué ou impossible.

Lorsqu'il débute comme sculpteur sur glace, il se découvre artiste autant qu'ingénieur. Sa soif d'innovation l'amène à inventer ses propres machines et dispositifs. Il déposera même un brevet sur la technique de fabrication d'une glace translucide. Avec Clarisse Helleringer, aujourd'hui directrice administrative de CRYSTAL, ils fondent l'une des premières entreprises françaises spécialisées dans la sculpture sur glace qui deviendra ensuite CRYSTAL.

Aujourd'hui Directeur Général, Michel reste avant tout Directeur Technique et Artistique CRYSTAL. Cette triple casquette lui permet d'appréhender la faisabilité de chaque projet dans toutes ses dimensions. Pour lui, le professionnalisme de CRYSTAL repose sur trois socles : le goût du challenge, le respect du client et du travail bien fait, et l'émulation créative des équipes. C'est toujours par la pratique, à travers les essais et les tests réalisés au sein de l'atelier, que se développent les idées de Michel et ses équipes. En effet, « l'expérientiel » est une des marques distinctives des innovations et des succès de CRYSTAL.

Michel est très fier de ce qu'est devenu CRYSTAL. Inventeur infatigable, il a déjà hâte de découvrir où vont le mener ses futurs projets.

PROJETS SUR LESQUELS
MICHEL A TRAVAILLÉ

Pour Richard, tout commence lorsqu'il découvre avec émerveillement la sculpture sur glace et rencontre Michel Amann, fondateur de CRYSTAL, qui va le former au travail de cette matière délicate. Ce faisant, Richard développe son goût pour la création et se dirige naturellement vers la décoration. Il fera ses classes et travaillera auprès du décorateur Fabrice Doux.

C'est fort de ces expériences, qu'il rejoint la direction du pôle Décors de CRYSTAL en 2012. Son expertise et sa passion de la scénographie lui permettent de gérer l'ensemble du processus créatif et de chapoter des équipes pouvant aller jusqu'à 20 personnes selon la dimension et le nombre de projets en cours. Gestionnaire de talent, Richard aime aussi faire rêver. Il le dit lui-même : « il n'a pas de meilleure récompense que d'observer les invités s'extasier devant l'univers créé pour un événement ». Esprit curieux, Richard guette les surprises du quotidien : Une vitrine de magasin, une publication internet, un article dans un magazine, ou même un dessin de sa fille : tout peut l'inspirer !

PROJETS SUR LESQUELS
RICHARD A TRAVAILLÉ