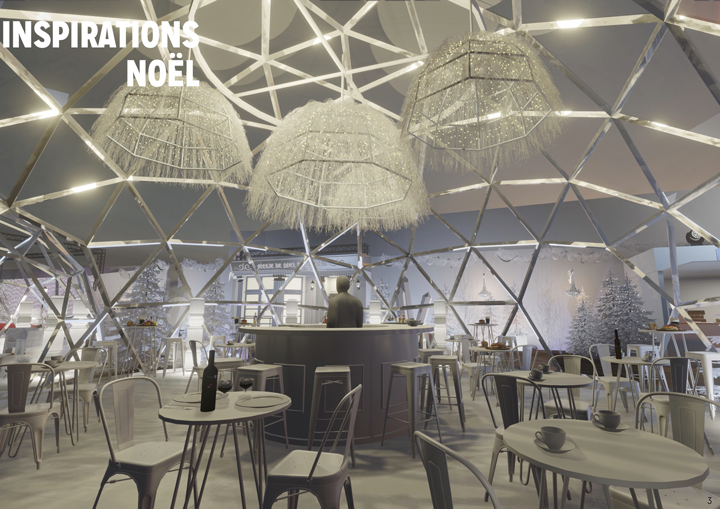 Crystal Group has extensive and solid experience organising seasonal events during this period. We spend the year keeping up with the latest trends so the experiences we offer are unique in every respect.
2019
Tradition, elegance and enchantment are the three themes set to work their magic this season to meet the ever-increasing desire for a more authentic Christmas. Traditions are preserved and simply dusted with a touch of fresh style and refinement.
One colour: white
This year again, the pursuit of what really matters, the genuine and the authentic are at the heart of everyone's holiday wishes. Take the success of White Christmas decorations for example. This colour, or the absence of it, is one you can rely on to guarantee surefire elegance this Christmas. With this classically tasteful colour, any decorative faux pas is absolutely out of the question.
But if white doesn't quite get you in the Christmas spirit, other holiday colour trends this year include amber and midnight blue.
A Christmas bubble
We think of Christmas as an interlude, a bubble that you can step into and leave the real world behind for a while. Outside, life can be overwhelming. In the bubble, a warm and inviting atmosphere awaits promising your guests a moment of escapism.
This transparent dome is one of our key trends in 2019. Hosting a pop-up restaurant or bar, this installation is the ideal way to conjure up magical timeless moments that will stay with them forever.
With living plant lighting, contemporary furniture and a Christmas tree mirror, every detail has been thought of to enchant your guests.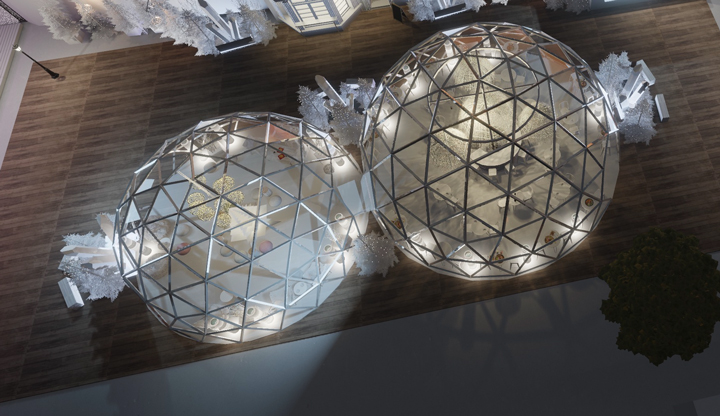 Make it cosy
Your event is bound to be a success when your guests are comfortable or, even better, feel like they're at home! Woollen fabrics, chunky knits and even fur (fake obviously!) are making another come back this year as ornamental elements. Woven into any decorative display, they will surround your guests with cosy vibes.
Cold and windy outside, nice and toasty inside.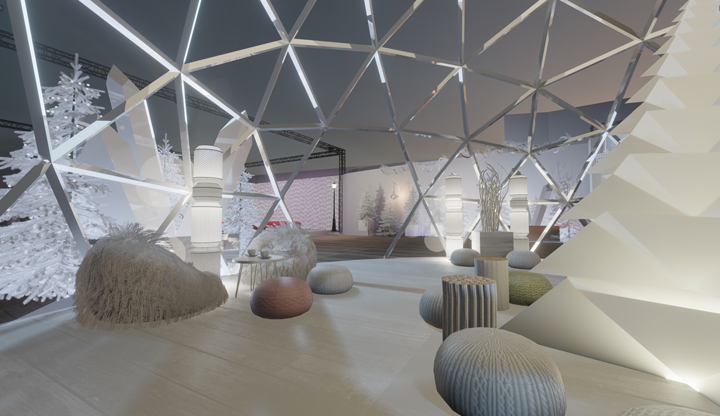 Let there be light
At Crystal Group, one of our biggest passions in decoration is hunting around for the latest lighting trends! We love coming up with the most recent innovations and those essential evergreens that never go out of fashion.
This year, in keeping with our quest for authenticity, chic and eye-catching suspended plant lights are some of our must-haves this season and look like they may be hanging around even after the holidays! Air plants especially are designed for creating truly breathtaking living Christmas ornaments.
Want a quote for your Christmas event? Get in touch!