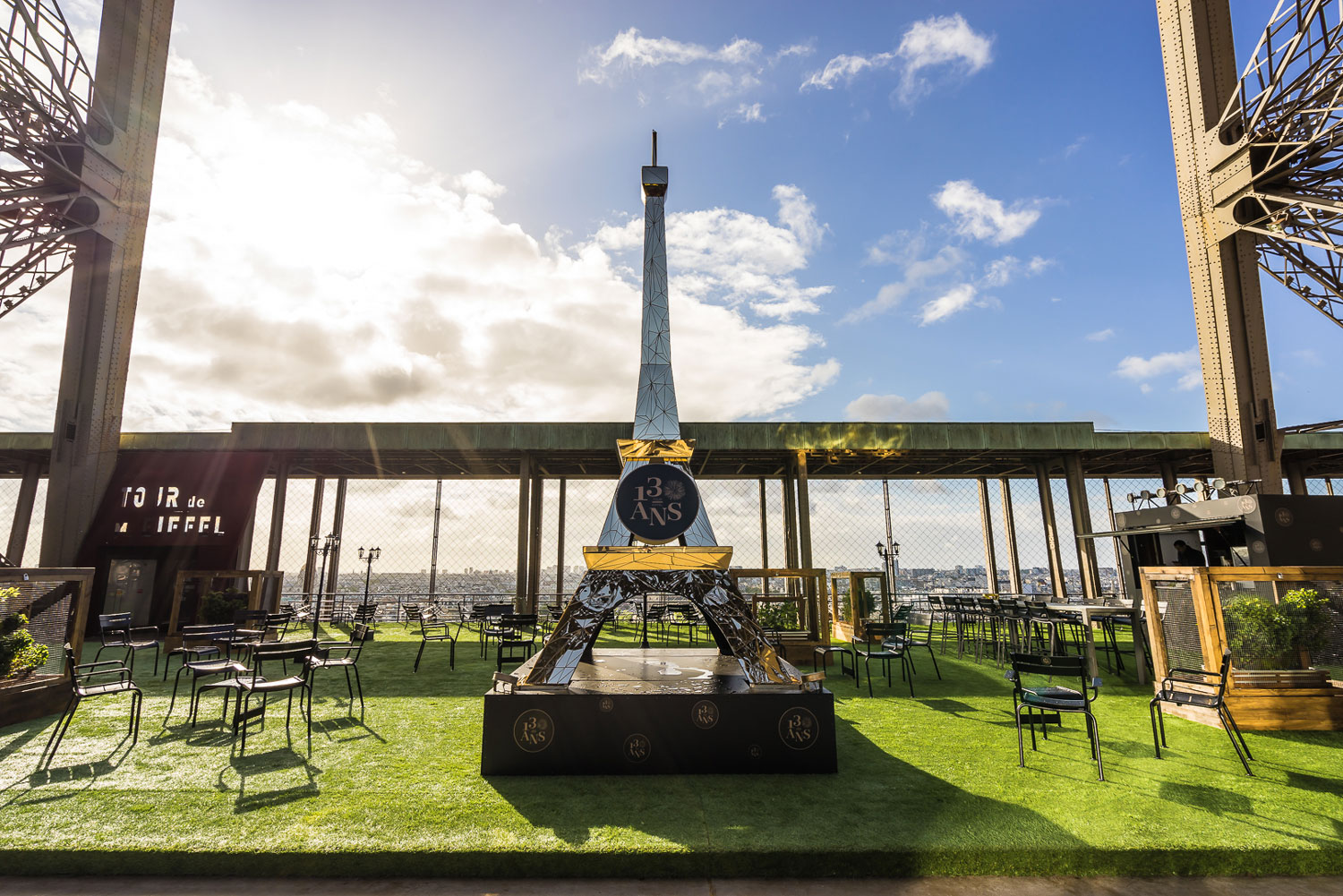 The Eiffel Tower rooftop with a "130th ANNIVERSARY" ambiance
 1889-2019, the Eiffel Tower celebrated its 130th anniversary! For the terrace on the 1st floor, CRYSTAL was consulted to create a space to relax and enjoy a meal with decor picking up on the 130th anniversary theme. For several years the Eiffel Tower's summer terrace had become one of the most popular Parisian rooftops. And the 1st floor terrace has a stunning view! 
DESIGN, CREATION, PRODUCTION
– Black Fermob furniture logotyped with the "130th ANNIVERSARY" colours (12 lounge-style low armchairs, 40 chairs, 13 coffee tables / foot rests, 12 high stools)
– XXL wheel benches – BLACK Dimensions: 1m71 Diam – logotyped inside and out with the "130th ANNIVERSARY" colours
– 2 grey high large communal tables
– Replica of the Eiffel Tower (H.5m/ made in stainless steel covered in GOLD faceted mirrors) + 4 logos (80cm Diam) in Gold dibond with the "130th ANNIVERSARY" colours placed on each side. Staged on a 2m50 X 2m50 podium.
– Head-in-the-hole boards with personalities from the Belle Epoque, including Monsieur Gustave Eiffel, to pose for photos. Photos printed on wood (Dimensions H.2m).
– Retro black cast iron street lamps to light the terrace
– The whole of the terrace turfed.
– Wooden and wire mesh shelters made to protect the walls of greenery installed by the company "Sous les Fraises".
RESULT
An anniversary celebrated in a verdant and tree-lined setting with the creation of a golden "little sister" for the Eiffel Tower. Visitors loved taking selfies with it. The 2019 rooftop kept its promise: a pretty space to relax in looking out from on high over Paris.