A key element of CRYSTAL's expertise, scenography is approached as a truly unique universe capable of creating an atmosphere and conveying a message. With no limits on design or production, textiles, wood, metal, glass and mirrors come to life to create settings that are either intimate or monumental, depending on client desires.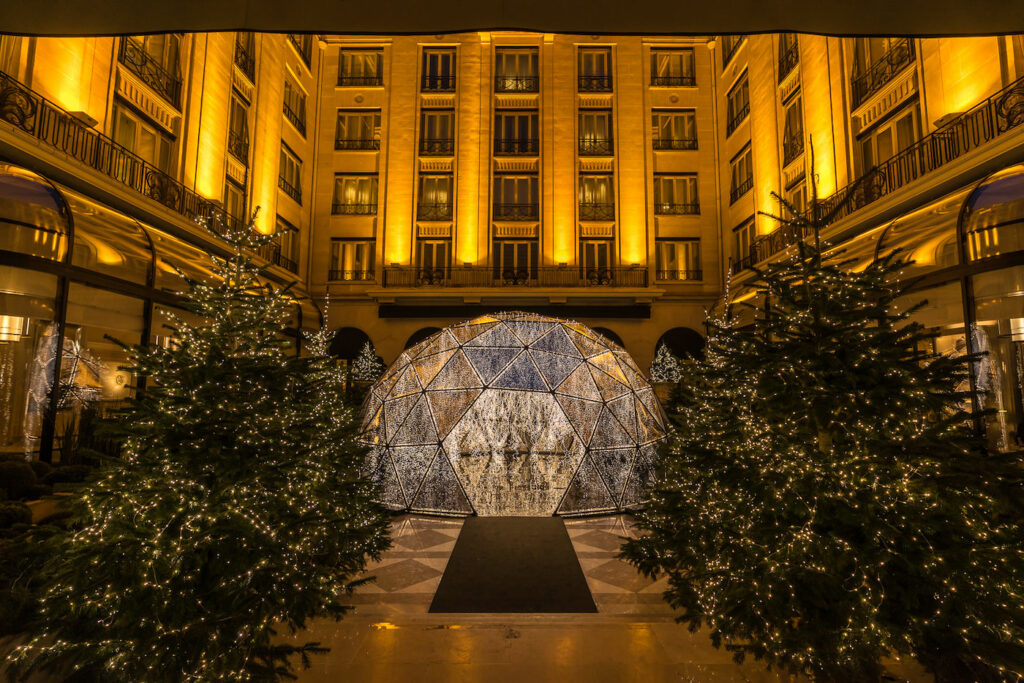 CHARACTERISTICS: CUSTOM SET DESIGN
CRYSTAL's workshop is equipped with high-performance technical means capable of bringing all concepts to life. The decorators (upholsterers, carpenters, welders) manufacture, finish, and sculpt the material to create custom-made furniture, surpri- sing backdrops, and innovative decorations.
For receptions, product launches, fashion shows, stands, or weddings, CRYSTAL interprets the client's brief, suggests creative ideas and variations on its various skills for settings that are as impressive as they are beautiful.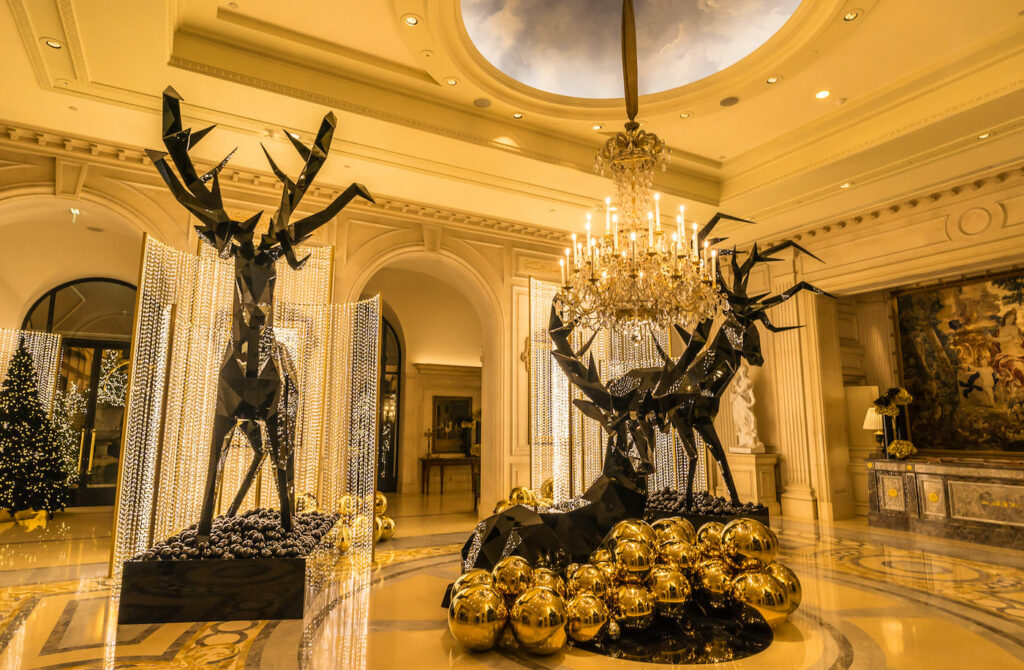 As a sign of renewed confidence, Jeff Leatham, Artistic Director of the Four Seasons George V, once again entrusted CRYSTAL with the task of decorating the magnificent Parisian hotel for the holiday season.
For the 2019 edition, guests were welcomed in a black and gold décor, shimmering with reflections under the lights.
CRYSTAL created an atmosphere comprising a luxurious winter theme across three key areas of the hotel:
– The lobby was adorned with three majestic black stags sculpted in stainless steel and covered with faceted mirrors
– The bar featured a monumental iceberg made of polystyrene (3.8m x 5.4m x 2.7m) and decorated with gold spheres
– The magnificent marble courtyard was beautifully lit by an imposing dome of sparkling lights (8m x 4m)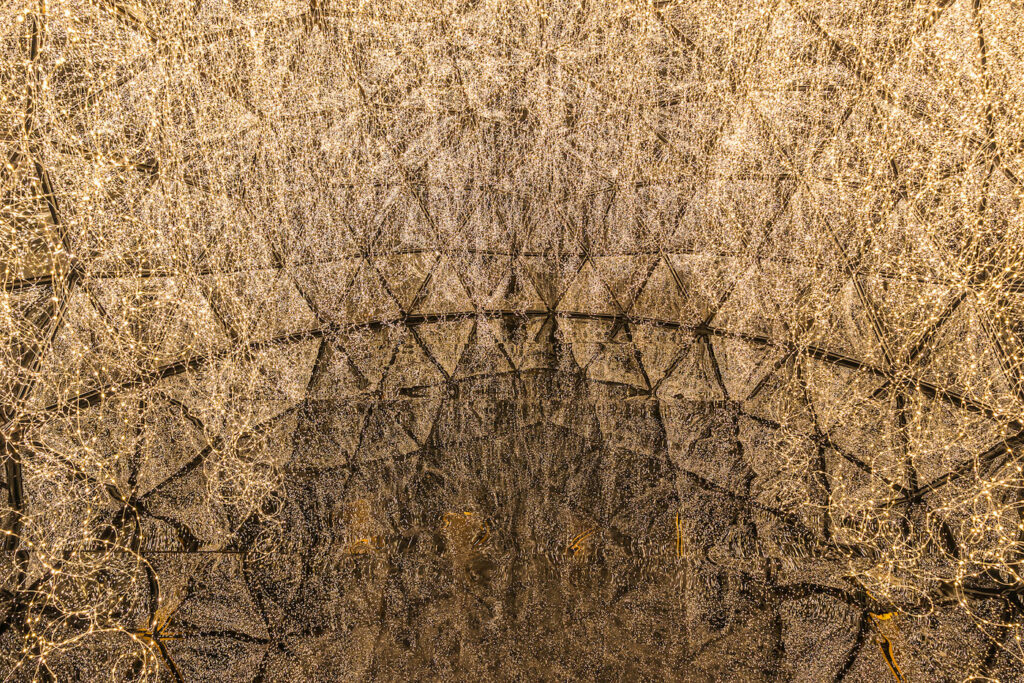 The guests were unanimously won over by the fairy-tale universe imagined by CRYSTAL at the George V hotel. A metallic scenography of gold and iron resulting in a memorable winter atmosphere heralded by the press as "enchanting".
To adorn the spaces of the George V, CRYSTAL designed a grandiose dome requiring the manufacture of a gigantic custom-made, black-finish metal structure: it was a real technical feat! 250 metal bars measuring 1m were assembled to form 160 triangular surfaces. This structure was then covered with 300 LED garlands, equivalent to a total of 15 km of lights.
Luxury and elegance came together in this opulent décor to capture the magical spirit of the season.
"Working with CRYSTAL to transform the interior of the George V hotel meant our dreams came true and gave our guests the chance to dream too! With their unique skill set as scenographers, CRYSTAL combined the most brilliant ideas with the guarantee that they will be professionally carried out."

TESTIMONIAL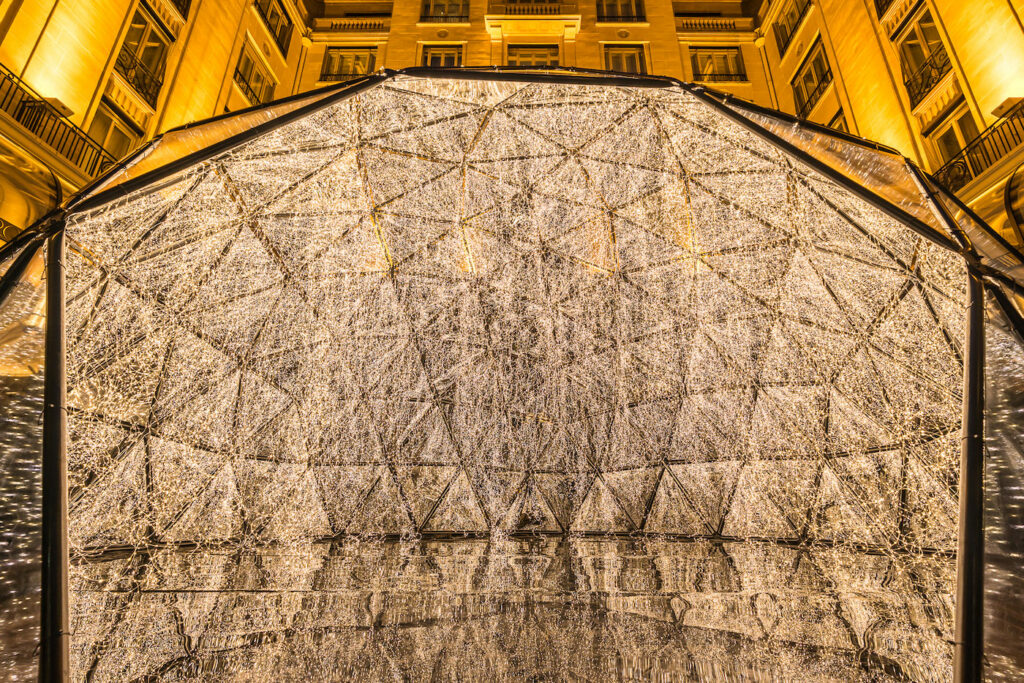 Ensuring the solidity and safety of a large-scale electrical installation for a light show that told an enchanting story was CRYSTAL's challenge, and they pulled off with brio at the George V hotel.