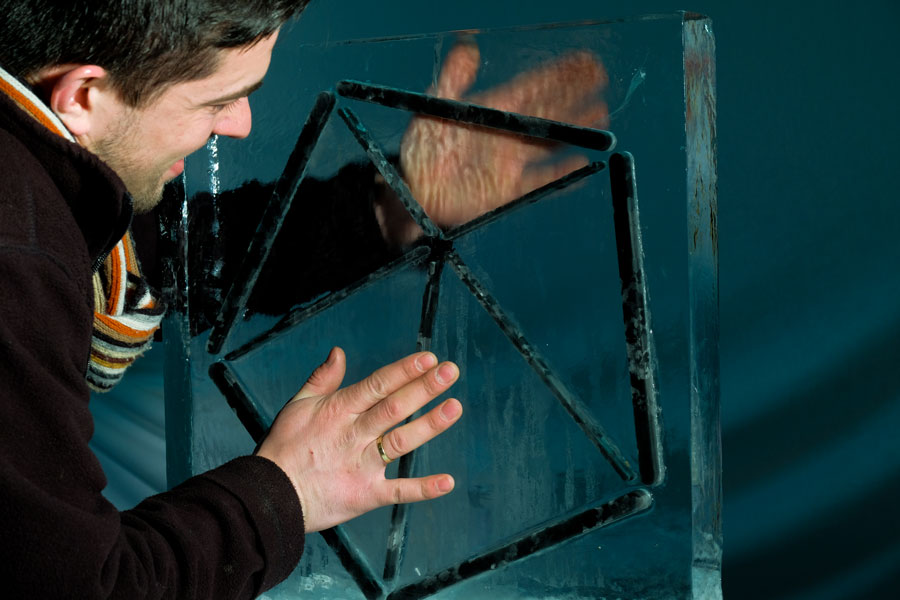 Matter to… astound
In thermal overalls and with gloves to protect his hands, he organises, plans and coordinates all the activity of our Ice department.
Watch out, it's not for the thin blooded!
What is your role at Crystal Group?
I am workshop manager for the Ice department at Crystal Group. I work with a team of three full-time staff: an ice sculpture, a materials manager and a driver. I have complete faith in my team, which is very important. I am very picky and I appreciate having people around me with the same exacting standards. Especially when I do not work on-site at an event, I need to know that even without me, the activities, the ice sculpture or the setting of the scenery will be done with the same precision.
What is your background?
I was born in Poland and I studied IT. When I arrived in France in 2012, I immediately started working for Crystal Group. Obviously a rookie to this world, I started out doing all the workshop's odd jobs, which allowed me to teach myself and to understand this material that is ice. I took care of packing up pieces, repairing machines and cleaning. Little by little, I learned to tame the ice, and all about its constraints and possibilities. Three years later, I became manager of the workshop.
Do you like the world of ice and especially the cold that accompanies it?!
In fact, the cold doesn't bother me at all. We obviously use very effective protective gear but either way, the cold is not something that I fear, perhaps because I come from Poland! I like the contact of ice, it is a material that is smooth, clean and elegant.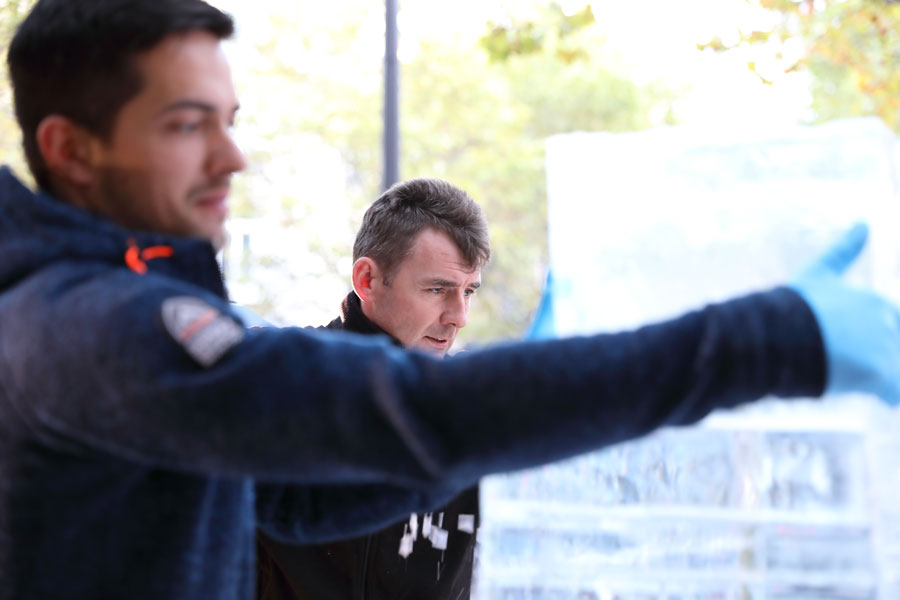 What is it that you like about Crystal Group?
I love to see the finished results of a project. I am always impressed by what we can do and yet I should be used to it by now! Above all, I like to see the astonishment of our customers. Some people have no idea of the possibilities that ice offers. When we bring them their custom-made carved logo, ice bar or ice displays, I'm often the first to enjoy their reactions!
I also enjoy getting to travel all over France and even abroad. Nothing is the same in the workshop and on-site.
Can you tell us about some of your most memorable projects?
I particularly remember our key installations. Amongst them, the ice bar that we created for the George V. hotel in its courtyard. We installed a cold room made entirely from mirrors, in which we created ice decorations. It was a large-scale project: in between the design, manufacturing of the blocks, sculpting in the workshop, assembling the cold room and installing the ice decorations, it took three months. To give you an idea, we needed 60 blocks of 1-m x 1-m x 30-cm ice, which weighed in it at more than 60 tonnes! The ice bar that we created in Lozanne was also very memorable for me. Each of the blocks was engraved, which meant almost 30 logos along the entire length of the installation.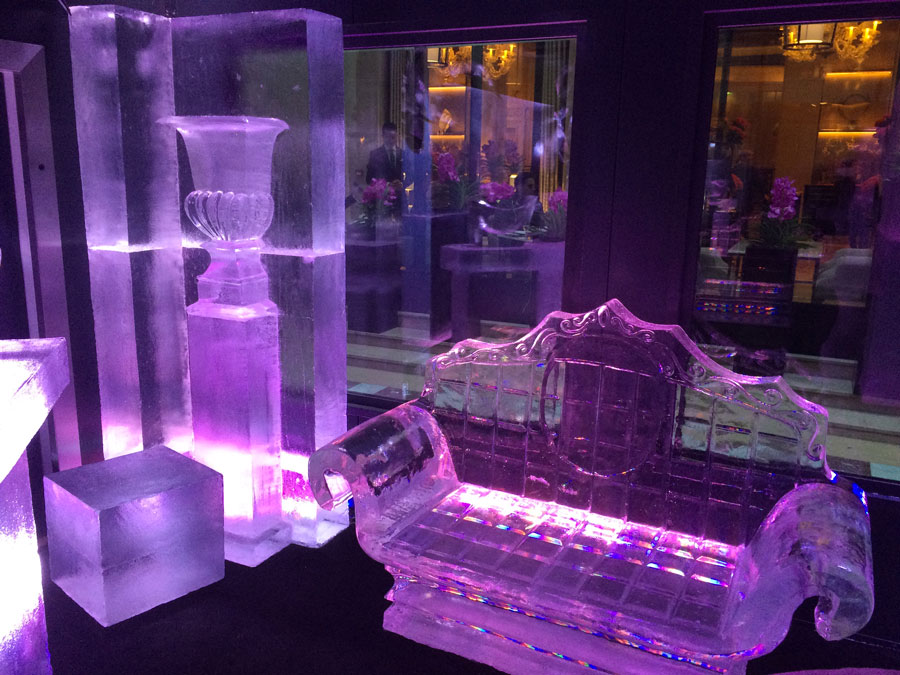 We also created an installation in the UNESCO Garden with the aim of raising awareness about increasing amounts of waste, global warming and recycling. Huge letters made of ice, forming the word 'warming', were filled with garbage. Inlay is an exciting method that allows us to embed all kinds of objects (flowers, petals, bottles, fruit, jewellery, etc.) within the ice.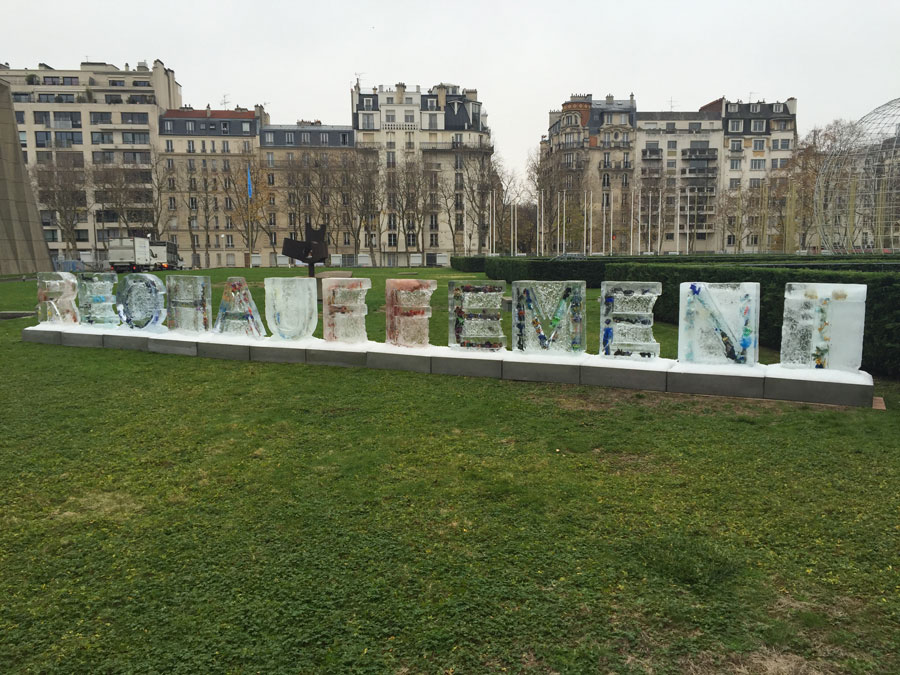 Will the festive period be busy at the ice workshop at Crystal Group?Yes, it is a great time of year, with lots of hard work and some beautiful projects. Obviously, we have a lot of orders that involve ice carving. Among them, we will create of all the Disney characters for EuroDisney hotels, as well as buffets and displays. And since this is a recurring project, I can testify that by now I know all of the Disney characters very well!
We also hold workshops, in which our ice sculptor introduce participants to this unusual art. The next will be an ice ball, when guests will attempt to carve a block of ice into a round shape!
We also have a project involving the creation of a magnificent ice bar that will be almost six metres long. Each block will be engraved.
Decorations, events, Christmas villages, we love these multiple projects that ensure the festive period is unforgettable!