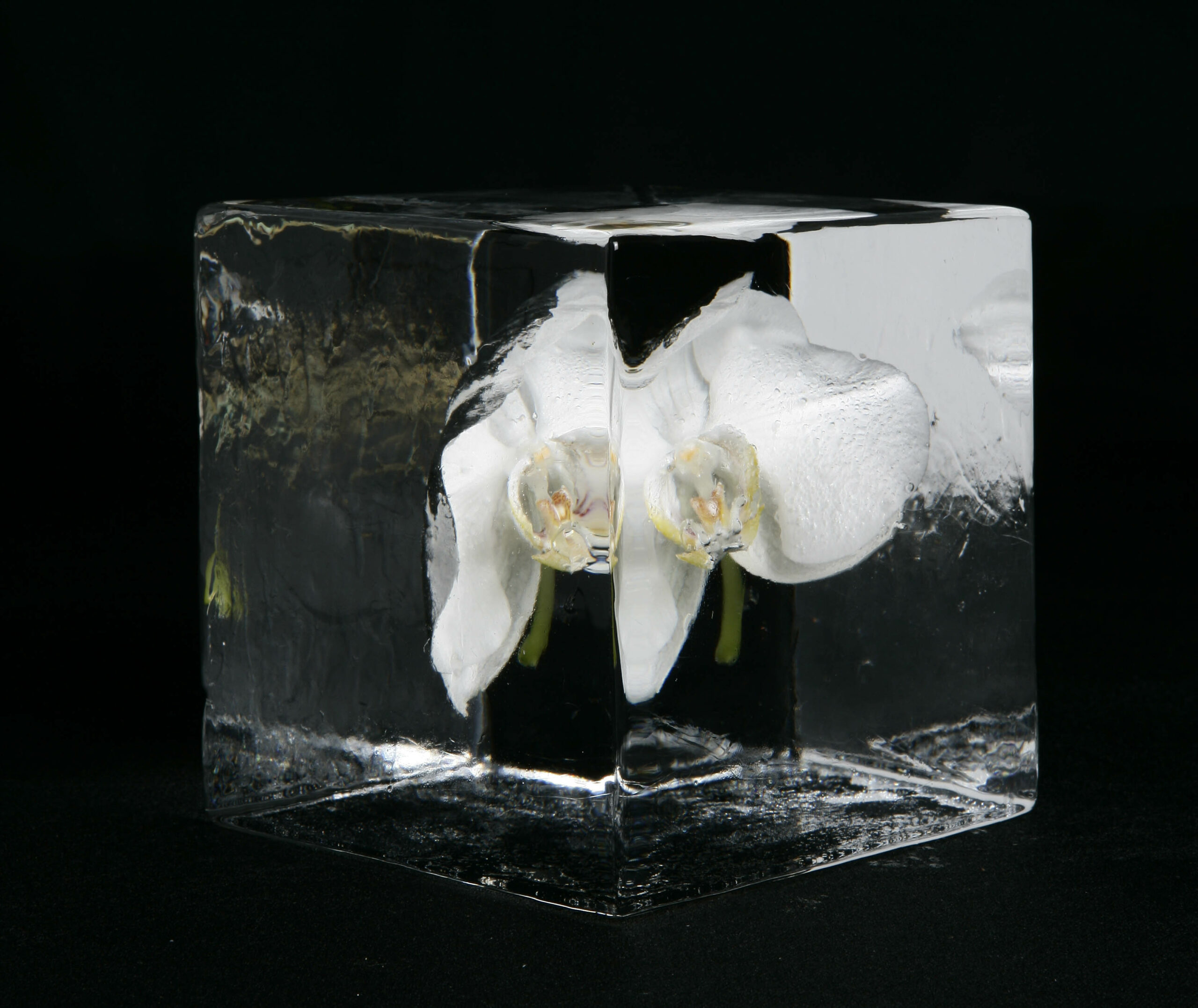 Matter for… understanding
THE DIFFERENT STAGES OF AN ICE PROJECT.
Stage 1: receipt of the order
Orders arrive with Clarisse Helleringer, our department manager. Once I have read them, I integrate these projects into our workshop schedule. According to the requests, the deadlines are adjusted and optimised. In order to maintain high-quality, translucent and flawless ice, we cannot craft our ice creations too long in advance of an event.
Stage 2: creating the ice
We have ten machines to produce our ice blocks. They were all built according to the design and patent filed by Michel Amann, our technical and artistic director.
In order to create an absolutely translucent and flawless ice, we use softened water and check the Ph level regularly. The water that becomes ice is thus in perpetual motion. This movement guarantees translucent ice, just like the ice that forms along a stream.
It takes about 5 or 6 days (depending on the weather and temperature at the time) to create a single block of 1-m x 1-m x 0.30-m thick ice with a weight of 300 kg. We can also use larger containers (nearly 2 metres) for projects that require larger blocks. To better understand how much ice we use, two blocks of ice (weighing 600 kg) are required to create a standard ice bar.
Our machines, depending on the time of year, can be put to use 24/7.
Once the ice is set, we unmould the block. The latter is then cut according to the intended use or stored in our workshop. We have a hundred of these blocks in stock at all times.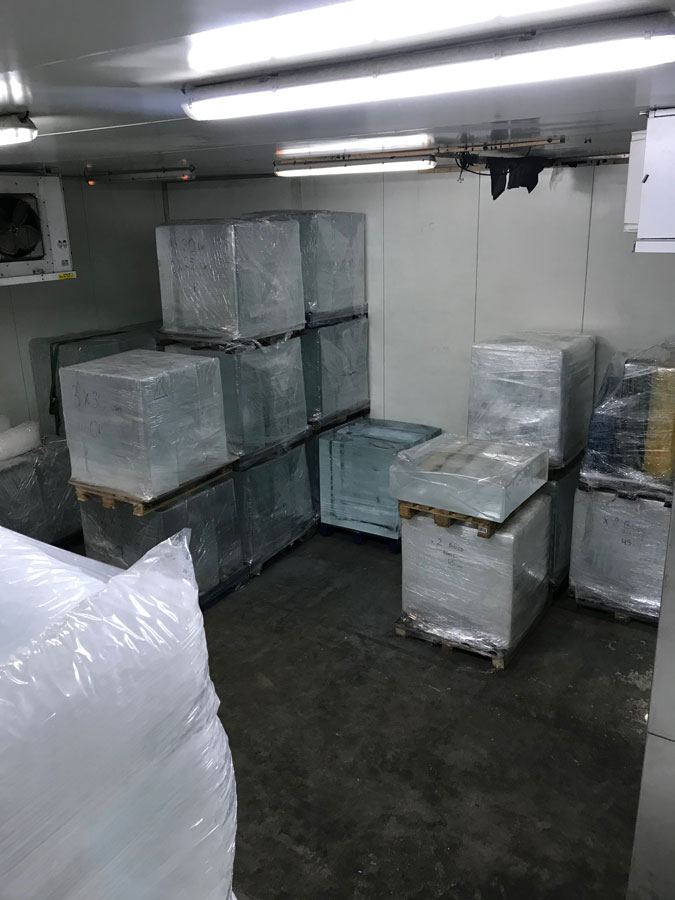 Stage 3: creating
the ice sculpture
We have an in-house sculptor, Nenad Klajic, who deals with all the specific ice sculpture requests. He sculpts at our workshop but also on-site for events and workshops. Depending on our workload and projects, the team is also strengthened by several freelance sculptors who work both in the workshop and at events.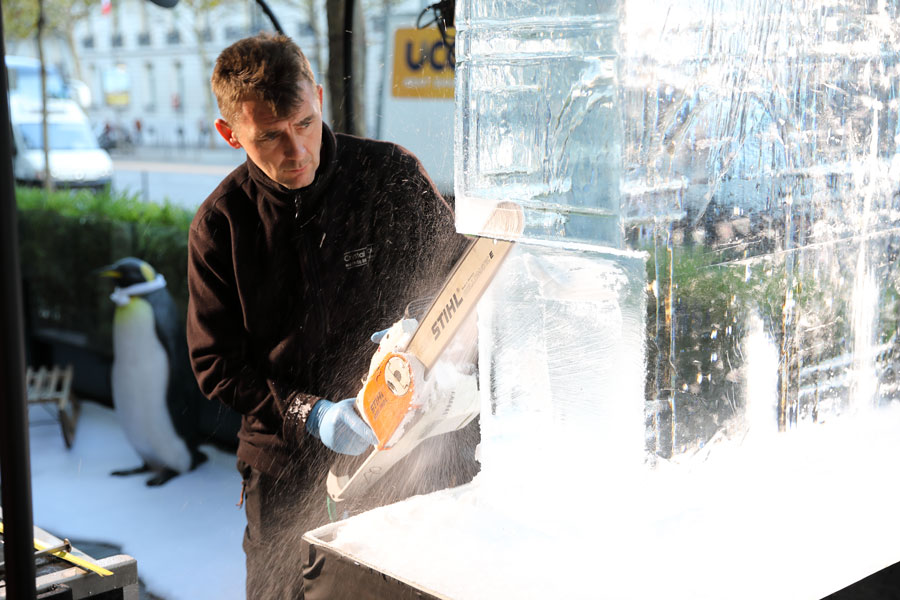 We also use a digital machine for some pieces that we manufacture in large quantities, and that we can offer in our catalogue. This machine allows us, among other things, to create ice glasses and engrave logos, displays…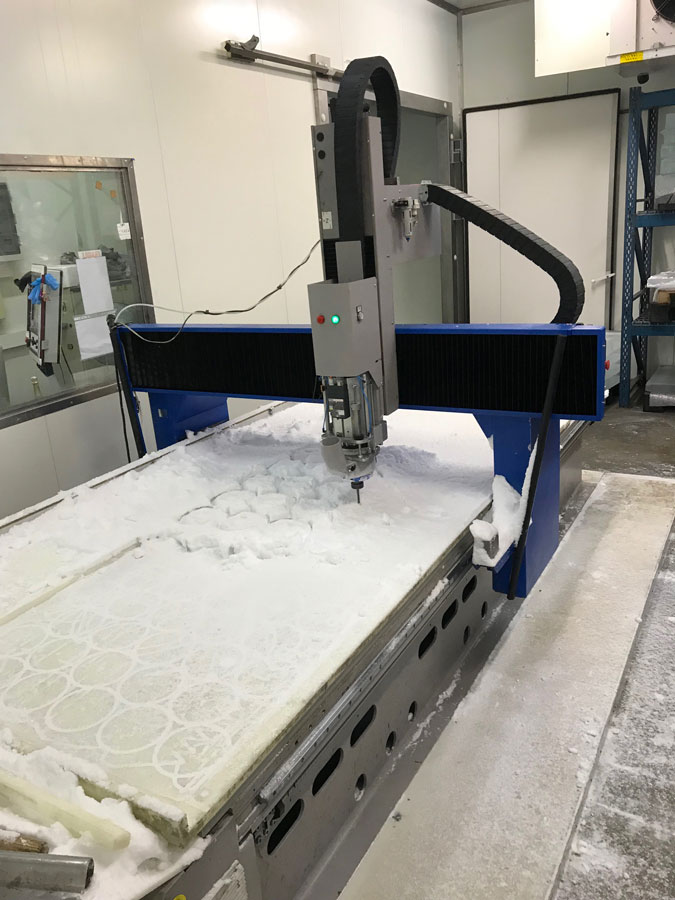 Inlays and coloured ice
When creating ice, it is possible to transform the material by giving it a different colour (using food colouring). This means, among other things, that it can be matched with the colours of a logo or brand. We play with mixtures to achieve the hue closest to your graphic design.
When the ice takes a certain thickness (from 10-cm thick), we can also place an object within it so that it sits within its own translucent display. We can inlay all kinds of objects, from flowers, petals, bottles, fruits, vegetables, perfumes, watches, jewellery…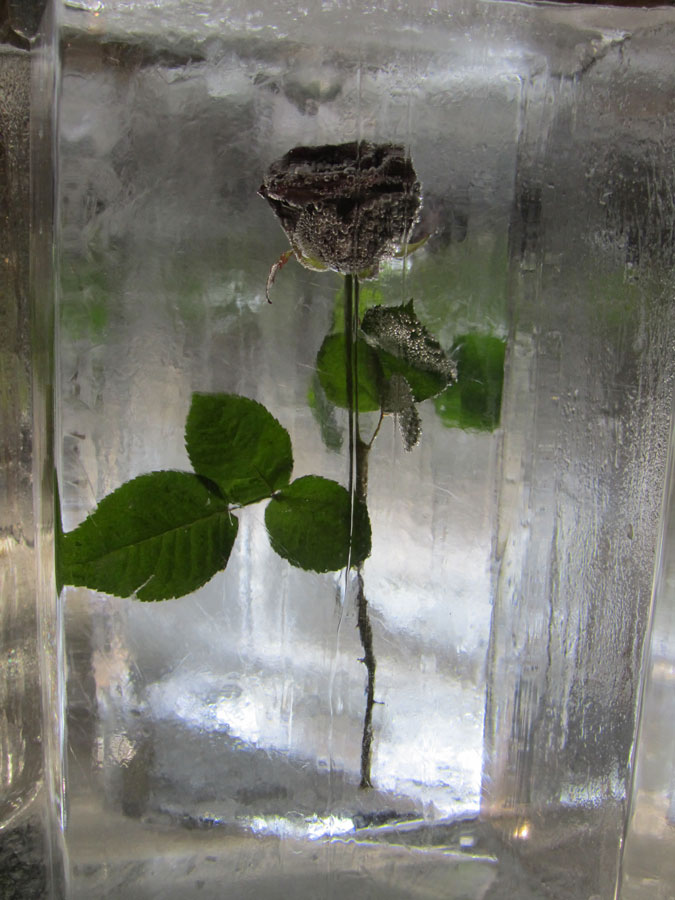 Stage 4: transport and installation
Everything is transported by refrigerated truck. Well packaged and held down to ensure it does not move, ice projects are transported at a constant temperature of -15 degrees.
Upon arrival on site, we take special care to respect the event site. We often work in prestigious locations, such as high-end hotels, and it is important that as we pass through we do so in complete respect of the existing elements. The installation is managed by myself or by my team, in whom I have complete trust.