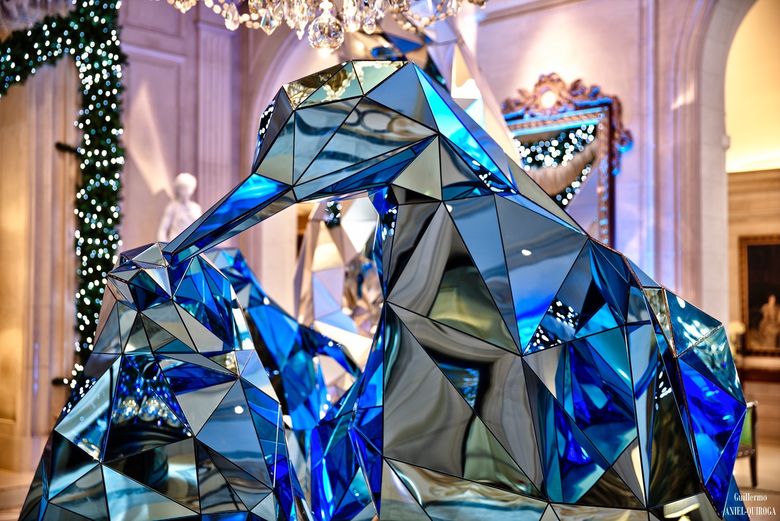 Matter to… make dreams
Throughout the year, we remain on the lookout for trends, original ideas and unlikely creations. These end-of-year celebrations allow us to implement all these discoveries and to offer you exceptional worlds.
Monumental sculptures
They impose themselves. They captivate and impress. We sculpt animals, objects and monuments on stainless steel frames, dressed with faceted, multicoloured mirrors. For Christmas? Penguins on an ice floe, giant deer, polar bears, a forest of fir trees… Mirrors faceted with white, blue, red, yellow… Whether for permanent or temporary events, these sculptures always provoke surprise and delight.
Discover some of our monumental sculptures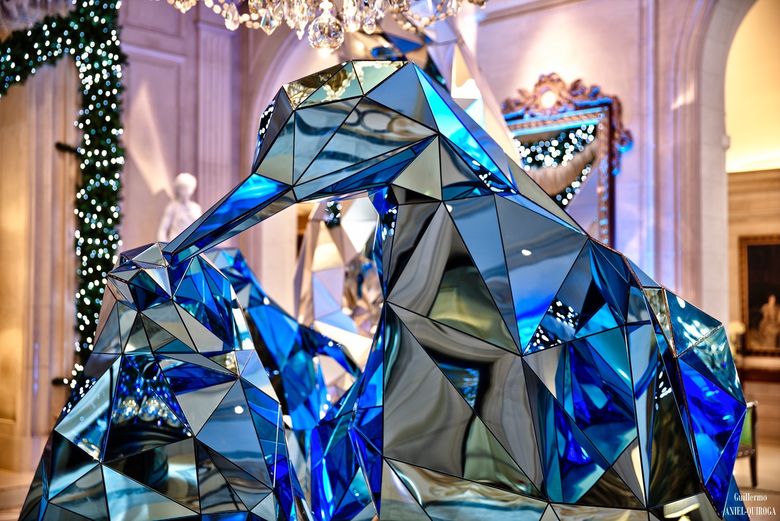 Christmas Trees
An inescapable element of the end-of-year holidays. Inescapable but certainly not boring or passée! We create ever-more original and tailor-made fir trees. Mirrored firs, electric fir trees, hanging firs, fir tree with faceted baubles… Depending on the theme of your party, or the location you wish to decorate, we will design your very own unique tree or trees. This custom approach helped us, among other recognitions, to be ranked by Vogue magazine among the most beautiful décors of Paris' palaces (for the George V – 2017).
For example:
For the George V, we created Christmas trees in boxes, decorated with clusters of baubles, with an elegant golden staging.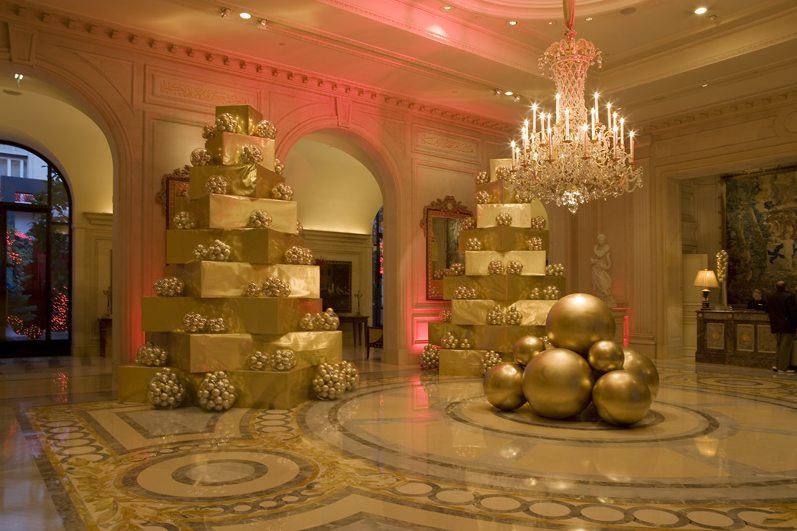 Christmas window displays
Nothing is more effective at attracting attention than an original, elegant and impressive display in your window. It helps to highlight your products and brand image. We decorate your window display but we can also create a display entirely centred around the theme of your choice.
For the end-of-year celebrations, we also make displays that feature ice and frost creations to last throughout the holidays!
For example: the Bon Marché window
We designed and created a window display for Bon Marché with a real water table. Embellished with white pearls and pink flowers with translucent petals, drops of water collect on the table, flooding the bottom of the window display in a closed, autonomous circuit.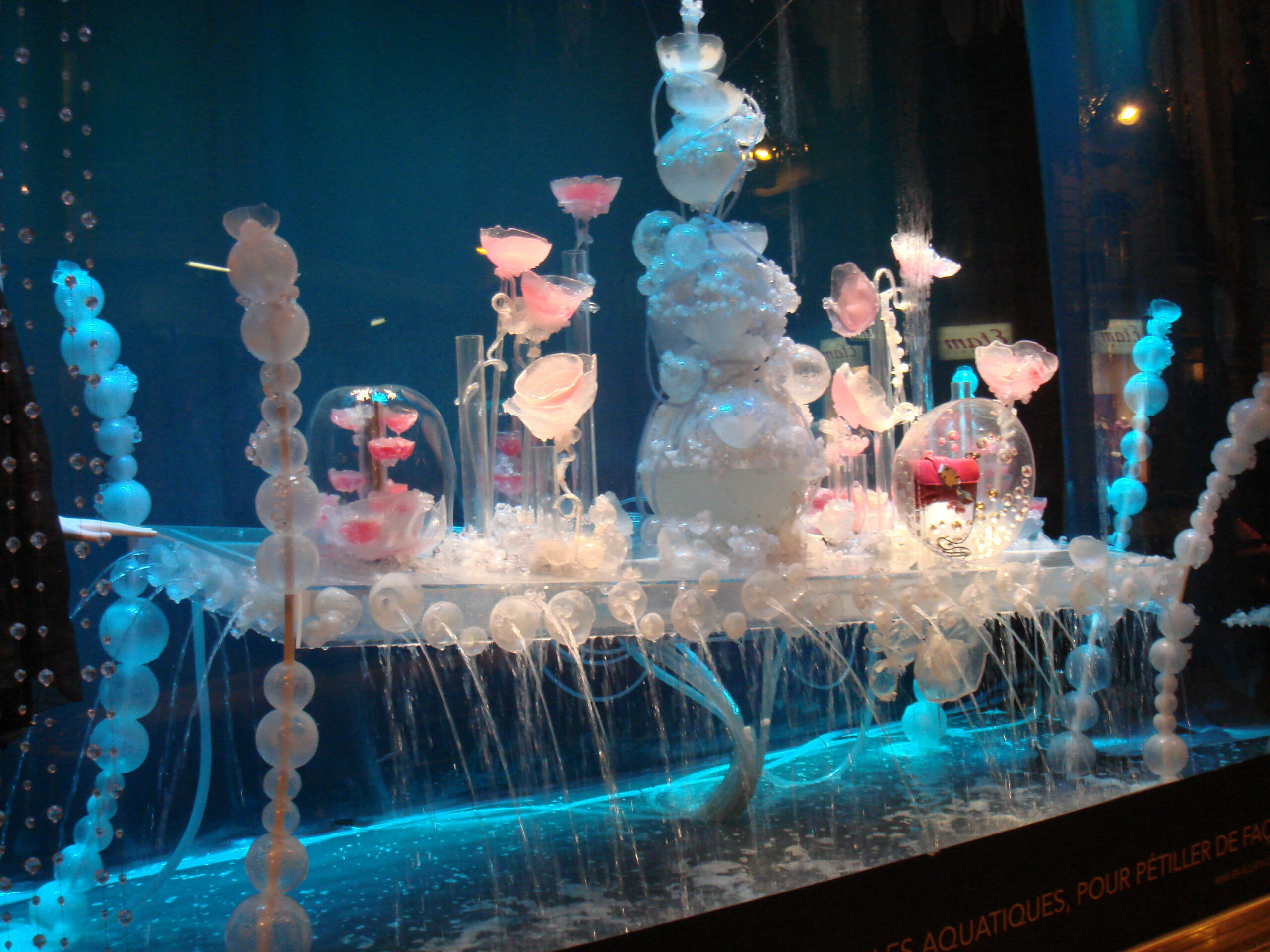 Variations of the Christmas theme
Evenings or decorations on the theme of Christmas involve major challenges that we seek to meet with all our stagings: to surprise, to amaze, to evoke dreams. Depending on your project and the venue of the event, we work on tailor-made themes to offer you incredible experiences. Ice bar, relaxation area, buffets, table decorations… Immerse your guests in Christmas
For example:
An igloo at your place? Anything is possible! Inside the Novotel at the Eiffel Tower, we designed this ice igloo and lounge decoration to enjoy these icy moments.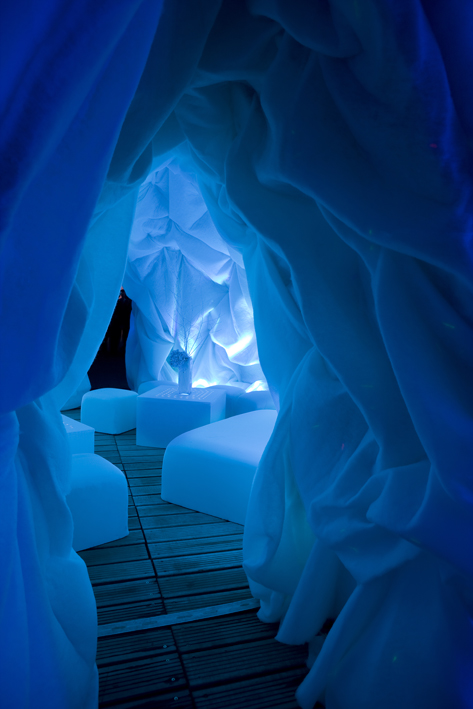 Our ambition is to offer tailor-made decorations, which naturally work in accordance with your project and budget. Many of our achievements have been inspired by the imaginations of our customers! We ascertain your expectations, craft the atmosphere and create your entire Christmas project. No matter whether you wish to organise a corporate Christmas party, a mountain village for your municipality or completely decorate your hotel, do not hesitate to contact us.
See you soon to discuss fir trees, snow, sledging and ice rinks!