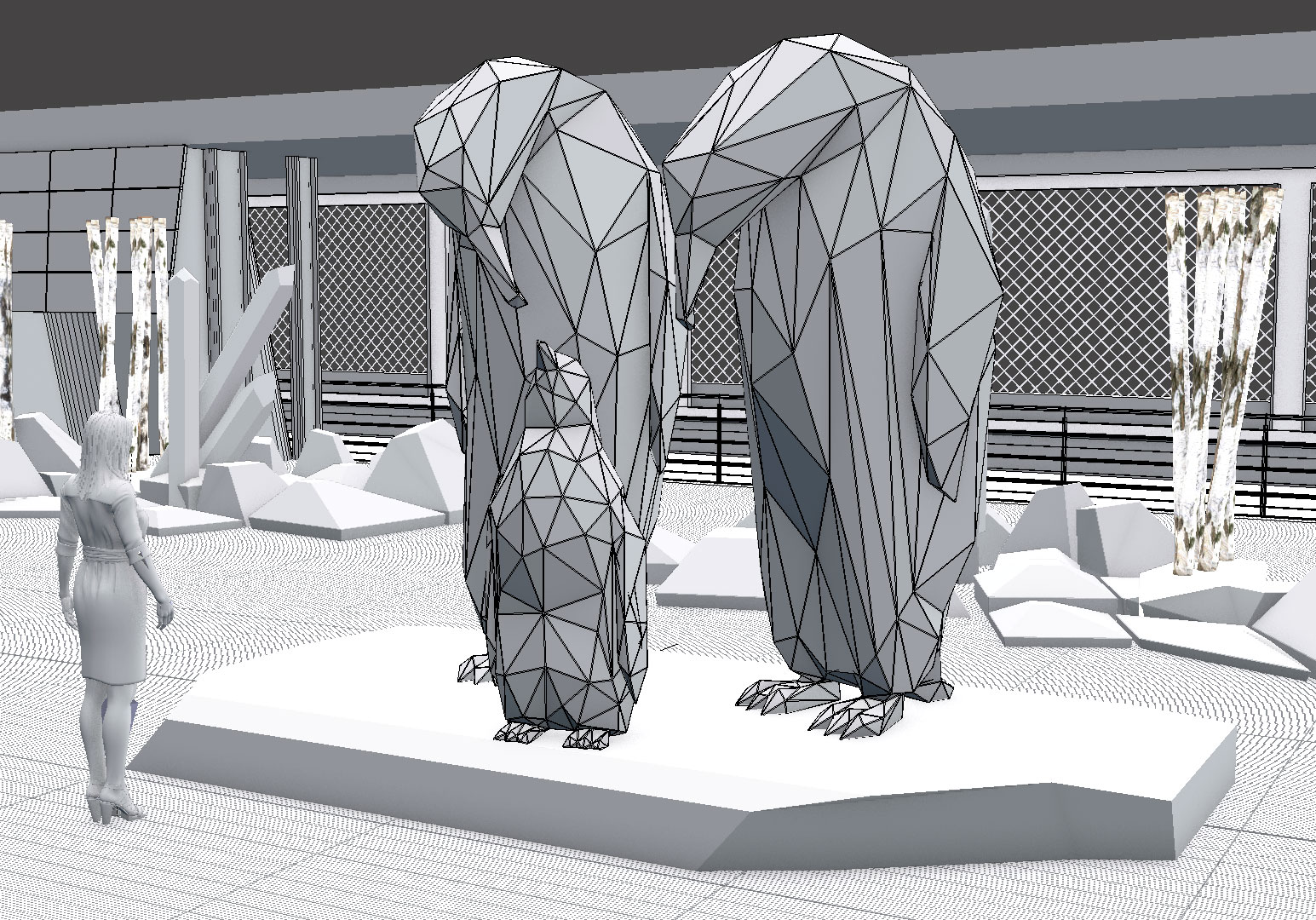 A true technology and innovation enthusiast, he also develops software to communicate with our lighting, fire and water effects during multimedia shows. To talk to Sébastien is to share an irresistible desire to move forward and discover. Portrait.
What is your role at Crystal Group??
I create 3D images and animations. Today, it is very important that our clients can visualise the rendering of their projects. It helps to reassure them. Subsequently, the created images can also serve as a plan for the production process, for example for the décor.
Another of my roles is developing a show controller, which is a type of software that allows us to organise multimedia shows (video projections, effects, music, etc.).
What is your background?
In terms of studies, I completed an advanced technician's certificate in computer management. Along with that, I'd always been passionate about 3D. As it happens I preferred to take my career in that direction. A company that designed exhibition stands gave me a chance and hired me to take my first shots. You can say I really learned on the job!
I stayed with that company for five years. Then I preferred to start working for myself. In reality, I wanted to explore other possibilities than those offered by stands. Little by little, my clients became more diverse and I have been able to reach sectors as varied as 2D, 3D rendering and 3D printing. I have even designed manga sculptures for an artist using a 3D printer
How did you begin working for Crystal Group?
After five years of working as freelance, I got a little overwhelmed and decided to look for a job. Someone from a temporary work agency contacted me and through that I applied to Crystal Group. Straight away, I had the chance to work on a great project: the aquatic and multimedia show in Nîmes. I had to create an animation based on a character, a drop of water, that was projected onto water screens. It was a challenge! At that point, I had never created any animations! I must have done okay though because I've been working for Crystal Group for ten years now!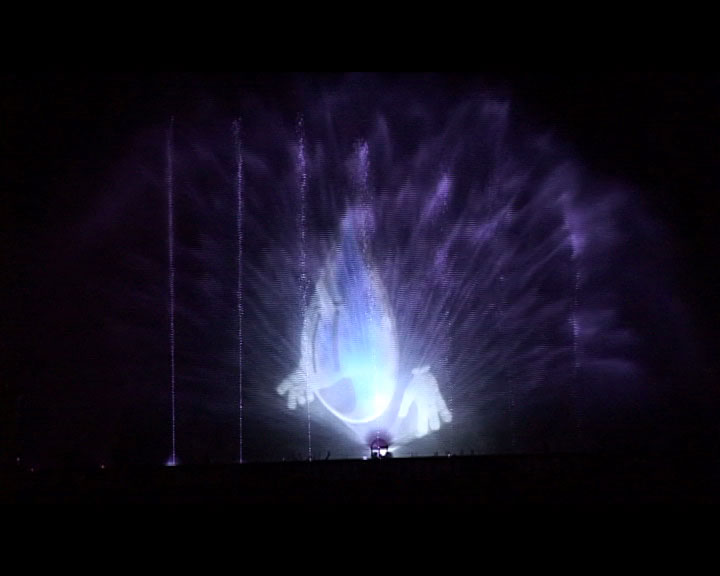 What do you like about Crystal Group?
The challenges! Every project is different and the clients always push us further. They are not limited by technical knowledge, which means they sometimes have ideas that initially seem impossible. Generally, we manage to make them into reality!
I love putting my energy into these projects. On the other hand, I have to fight my desire for perfection! We must stick to deadlines and budgets. Sometimes I have to be reactive rather than a perfectionist.
I also enjoy working in a team. A project is kept afloat by a whole range of trades. When I travel to events in France or abroad, the project becomes a real adventure. The reality of the location and its conditions takes us out of our comfort zone.
Do you often work directly with Michel Amann?
Yes, on a regular basis! We share combined technical and artistic knowledge. Our exchanges allow us to move forward from just the technical side in order to go even further. Of course, always respecting deadlines and budgets! I retain a lot of freedom in my proposals. I appreciate being able to explore certain ideas. For me, the process of creation is identical to the technical process: it is simply a question of combining what is there already.
"If innovation is a key part of a project, you can be sure that I will like it!"
Can you tell us about some of your most memorable projects?
The Nîmes show is an extraordinary show that enables me to create some beautiful animations. I also like the projects that allow me to work on innovative elements. For the Eiffel Tower for example, we designed an interactive ice rink. The surface of the ice rink captured the position of the people. This tactile and interactive feature also allowed us to create 'intelligent' tables for the Heavent show.
If innovation is a key part of a project, you can be sure that I will like it!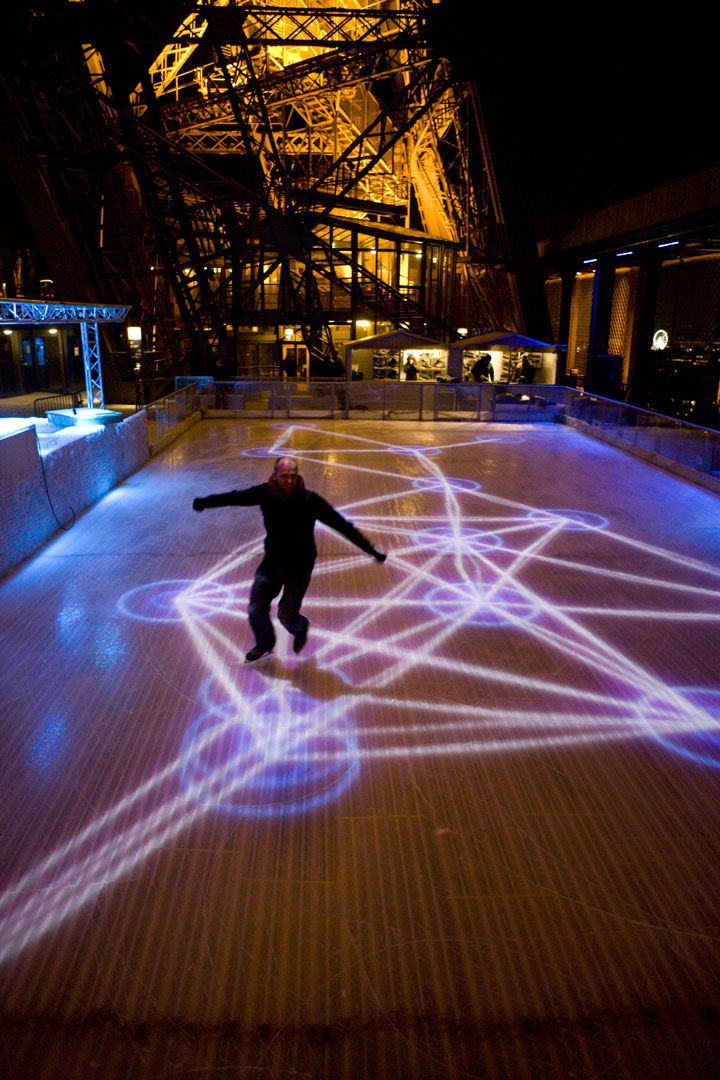 I loved modelling the monumental faceted sculptures that we have created, especially for the Four Seasons George V in Paris, which required bears, panthers, elephants, penguins, rabbits, horses… I admit that initially I had some reservations regarding the final rendering of this type of sculpture. However, as soon as I could see them in their environment, I was just amazed!